SKYFAX MSN
Il sistema SKYFAX si basa su un modem autonomo in grado di trasmettere e ricevere fax, e files di comouter utilizzando comuni ricetrasmettitori HF garantendo una ricezione priva di errori. Il sistema è in grado di operare ad una velocità massima di 3600 bps in ottime condizioni di collegamento, e scendere fino a 53 bps in caso di condizioni estermeamente avverse come scarsa propagazione o interferenze. La versione MSN attualmente implementata in CODE300-A si compone di 10 canali paralleli, ogni canale viene inviato a 125 bps, offrendo così una capacità di trasferimento di 1250 bps. Normalmente il sistema SKYFAX è in uso unitamente al sistema MIL 188-141 (ALE); il sistema ALE stabilisce tramite un test di collegamento quale canale (frequenza) usare per il collegamento e successivamente utilizzando il sistema SKYFAX vengono inviati i dati (testi direttamente leggibili o files trasferiti in modalità ASCII).

SKYFAX MSN
SKYFAX is a standalone modem which makes possible transmission and reception of faxes and computer data files between most conventional HF radios with error free output at the receiving end. The system uses a maximum on-air data rate of 3600 bps with fallback in stages ultimately to a robust 53 bps under extremely adverse propagation conditions or interference.
The Medium Speed Modem (MSM) uses 10 parallel data channels in the audio baseband of the transceiver. Each of the data channels is modulated at 125 bps, providing a total capacity of 1250 bps. Advanced digital signal processing techniques are employed to generate the tones and recover the data from each tone. The most dominant effect of ionospheric propagation is the selective fading of frequencies within the channel baseband.

| | |
| --- | --- |
| Traffic data rate | 1250 bits per seconds |
| On-Air waveform | 10 paraller FSK tones |
| Symbol Rate | 125 symbol per second |
| Tone set | 437.5, 687.5, 937.5, 1187.5, 1437.5, 1687.5, 1937.5, 2187.5, 2437.5, 2687.5 in 250 Hz step |
| Modulation | +/- 62,5 Hz |
| Throughput | Up to 600 bits second depending upon channel conditions |
| Operational Mode | Half Duplex adaptive ARQ with CRC error detection and Forward Error Correction (FEC) |
Caratteristiche Tecniche della modalità MSN (Medium Speed Modem)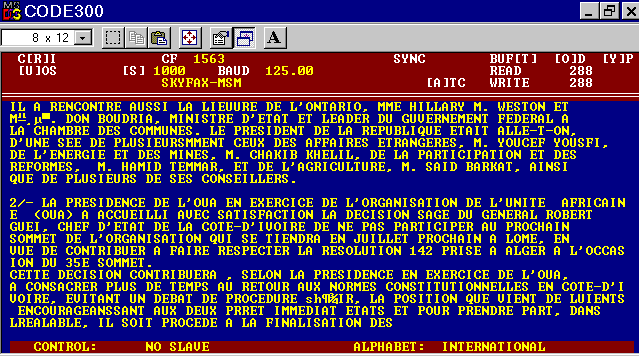 Esempio di decodifica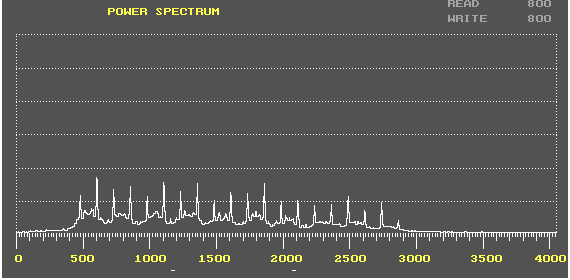 Il segnale SKYFAX visto con Power Spectrum